Here is a picture of me with various nieces and nephews (Xmas 2007).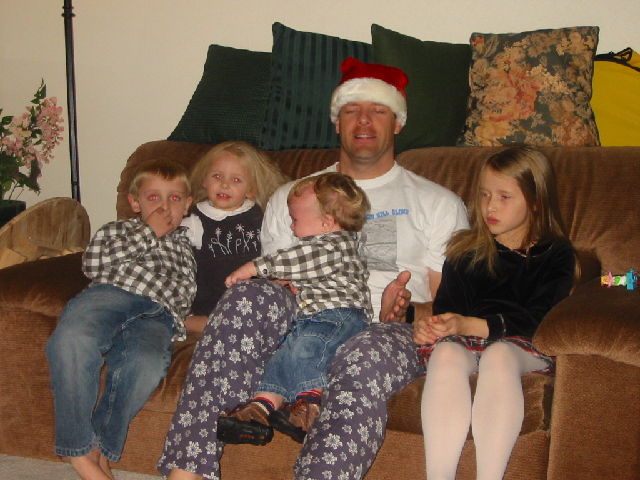 ---
And here's a whole gallery of photos representing magic moments in the history of the world. As far as I am concerned, anyway.
I now work for Beyondsoft who took over from Modis (formerly Adecco), back onsite at HP. For 14 years I worked for Temel - name changed to Adverb Media - acquired by zeta - acquired by PM Digital - changed name to PMX Agency - then acquired by the Stagwell Group and "realigned". Before that I worked for The Network Group working mainly at HP's Boise site. I've lived in Boise since 1999. Before this, I was laid off one too many times by MeltTran, Inc in Idaho Falls. I used to work (a little more steadily) at Argonne National Laboratory - West (now Materials & Fuels Complex at the INL).
I graduated from

Rice University with a BSEE/CS in 1992 and was at one time working on a masters in Software Engineering at the
University of Idaho - Idaho Falls Center for Higher Education.
When not at work, I enjoy swimming year-round, downhill/nordic skiing in the wintertime, road and mountain bike racing in the non-wintertime. About my bikes. I also liked to play with my 1988 VW GTI and 1991 Audi 200 quattro. Sold them both and now have a 2005.5 Audi A4 avant.
The Wondrous Multimedia Henry Email Archives.
In November of 1995 I took a trip down to Moab for some off-season mountain biking. Want to see some pictures?
Peter and I volunteered to assist in the cycling venue at the 1996 Atlanta Olympics. Here's our schedule. Woo hoo, road trip!
Hey, send me some mail.
hah@alumni.rice.edu
also note new, more-permanent email address (mail to hah@srv.net no longer forwards)